Incredible quality.....beautiful yarns......
.....are basically year-round garments.
Timeless style..........rich classic sport coats to have in your closet for years to come.
Whether you are a businessman, an undergrad.....Grad Student.....Law Clerk.....Intern or successful Alum.........these jackets will give you great wardrobe mileage.
Mix them with jeans.....or dress them up over dress slacks.......add a tie or nice Polo Collar or Cashmere Sweater !
Things have gotten so casual these days. With a nice blazer over some khakis and loafers....you can walk in about anywhere.
Don't miss the new Fashion HYBRID Blazer.......with removable bib....in Black and Navy....
Just ADDED.....WOMENS Blazers.
A little polish will carry you far in life.
Navy Blue Blazers work GREAT for Weddings !
We offer an incredible array (we think !) of sizes and different price points.......sure to be able to fit you and find the quality you are seeking.
Now also offering.....New Modern Fit ! Trim Tailored
We look forward to sending you one of these for this season !
Dennis
and may we suggest........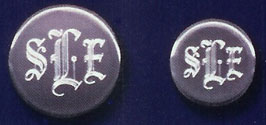 The perfect compliment...Engraved Blazer Buttons....
or our new Crested Blazer Buttons Imported by Special Order.
The History of The Blazer
In the 1800's, British Ship Captains bought dress uniforms for their crews, who were normally a ragtag bunch.
The Captain of the HMS Blazer happened to choose Navy Blue Double-Breasted with Brass Buttons. They were affectionately identified by the name of the ship from then on.