Limited Edition Braces
Complete Collection
Trafalgar Braces
from Dann Clothing
<![if !vml]>

<![endif]>
<![if !vml]><![endif]>
Wearing these conversational braces is a elegant manner of expressing one's dash, style, and sense of humor in your Furnishings. Many of these hand-loomed silk "Braces"--or Suspenders--- have established themselves as collectibles and wearable works of art. Pick a pair that suits your fancy...and wear them with casual, business or evening attire ......and enjoy the new dimension they bring to your life ! Limited Edition Braces are truly limited and have been known to sell out quickly. Followers of Calvin Curtis and the International Society of Brace Collectors have added to the interest.
I worked for Trafalgar for many years both in NYC as the Ghurka Natl Sales Manager and also as a Sales Rep. I remember the day Marley Hodgson, creator of Trafalgar and Ghurka, came in with loose tapestry braces in his hands and casually announced how he was working on this new Collection. Now 30+ years later....what a following of enthusiasts it has created. (And how honored I was to work so closely with such talented people !)
Joan Dann
PS We ship Internationally and to APO Boxes !
<![if !vml]>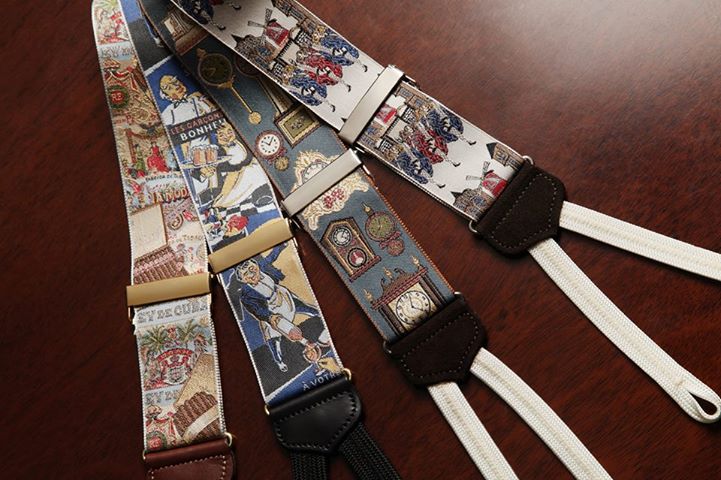 <![endif]>
Also...don't miss.....Trafalgar Classic Braces, Trafalgar Patterned Braces, Trafalgar Formal Braces
Match style names from left to right.
Don't miss our Collectors Club Special ! See bottom of page !!

Don't forget Weddings -----a GREAT touch of your own personality with Limited Edition Patterned Braces