Personalized ! Cedar Shoe Trees
from Dann Clothing
Personalization included !
Using only the best aromatic Red Cedar available !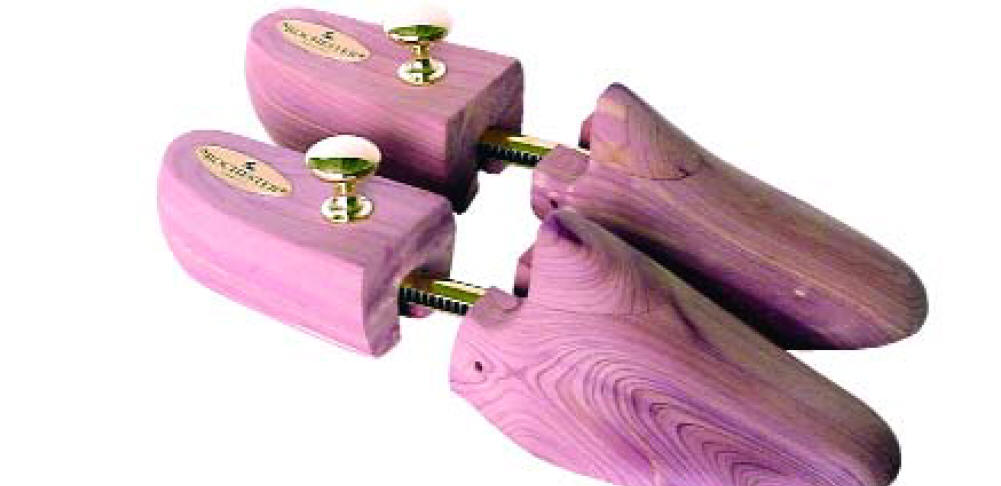 Cedar is perfect in shoes....extending the life of fine footwear by absorbing the moisture and banishing the odor.
Our Shoe Trees also help to hold the shape of the shoe. Well cared for shoes simply will last longer.
We think these make fantastic gifts ! High-quality Fragrant Cedar........such a useful product.....and with someone's name....available in all sizes for the best fit for your shoes.
Gift giving is easy with our direct ship...........right where these need to go........with a note from you included.
Several Business days for delivery of these personalized special order items !
Please note....Personalized Items are Special Orders just for you ! They are a non-returnable item.
Sizing at bottom of page......please note for split toe.
We look forward to hearing from you !
Dennis & Joan
Why Shoe Trees?
Added Wear: Aromatic Red Cedar Shoe Trees protect leather, fabric, stitching, and soles, preventing cracking and deterioration, and extending the life of your expensive shoes and boots.
Comfort: Cedar's unique wicking action quickly absorbs moisture, salts, and acids leaving your shoes and boots smooth, cool, and dry.
Appearance: Aromatic Red Cedar Shoe Trees smooth out linings and insoles, making your shoes and feet feel cool and comfortable.
Fragrance: Aromatic Red Cedar will keep your shoes and boots smelling fresh and clean. A grand service to all involved.
USA Shipments only !