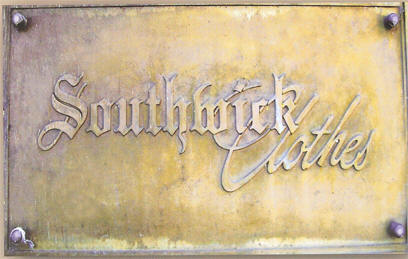 The Southwick Tuxedo
& White Dinner Jacket
An extraordinary suit of clothes.
Old world quality in construction and fabrication made in America.
Southwick has always been for the man who is comfortable with his own talents, values and ideas.
It embodies a fundamental British attitude toward clothing.......the natural shoulder.
This natural shoulder style...with its simpler, cleaner lines, has become a time-honored classic.
Southwick maintains exceptional standards of quality. They also keep their collection in the hands of a limited number of retailers. We have been proud to have been one of them for over 30 years.
Worn by presidents, ambassadors, corporate leaders and other men of distinction who chose Southwick to enhance their own style, not replace it. Southwick Represents understated elegance and quality workmanship.
The White Dinner Jacket is not a Stock item....but can be made up just for you....
as can a different Tuxedo than shown....via the Southwick CUSTOM DEPT.
Regulars, Shorts and Longs !
Notch Lapel, Shawl Lapel, Peak Lapel, Double Breasted.....
Dennis
Additional pants to match suit ? Please email us and we will add to your