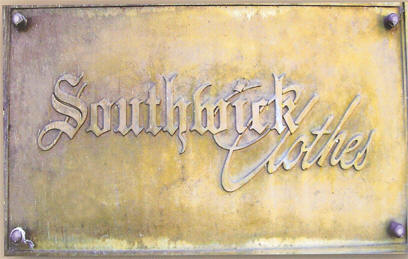 Southwick Suits
& The Southwick Tuxedo
An extraordinary suit of clothes.
Old world quality in construction and fabrication made in America. Southwick has always been for the man who is comfortable with his own talents, values and ideas.
It embodies a fundamental British attitude toward clothing.......the natural shoulder. This natural shoulder style...with its simpler, cleaner lines, has become a time-honored classic.
Southwick maintains exceptional standards of quality. They also keep their collection in the hands of a limited number of retailers. We have been proud to have been one of them for over 40 years.
Also....Every Well Dressed Man needs his own tuxedo hanging in his closet ....in my opinion ! Southwick makes a wonderful one.
Dennis
PS A few words about Made to Order. We start with very fresh measurements from your local alteration shop. We then produce the garment just for you....your size and your choice of trouser styles. As with all Custom it is then non-returnable, non-exchangeable and non-cancellable once the order is placed.
Regulars, Shorts, Longs
Southwick offers "Nested Clothing" only-----we ship a cooresponding trouser size with the jacket size.