Brandy Snifter Barware Collection
from Dann
Elegant Brandy Snifters for after dinner drinks.
Loop Optic Handblown Barware !
Special Loop Optic Brandy Snifters----which are Hand-painted and Hand-blown in the US.
As we were watching "Out of Africa"....once again.....and watching them with their Brandy Snifters in front of the fire...it is just so lovely. What an wonderful indulgence.
Please allow several days before shipping ! All orders made up to order !
Makes a wonderful gift !
Dennis & Joan
"Brandy is a derivative of wine and is produced through distillation. While brandy can vary depending on where and how it was produced, the three main types are: grape brandy, fruit brandy, and pomace brandy.
The proper glass to use when serving brandy is a snifter. A snifter is a short-stemmed glass that resembles a balloon. With its wide bottom and narrow top, a snifter is specifically used when drinking brandy so that the aroma can be trapped in the glass.
Liqueur enthusiasts that want to feel a tad posh this evening might want to try drinking from a brandy snifter. This glass, shaped like a balloon with a large bottom tapering to a narrow top, has long been regarded as a symbol for luxury and indulgence. The brandy snifter made many appearances in old movies, where they were often held by rich guests at cocktail parties or well-heeled gentlemen in drawing rooms.
In fact, the brandy snifter is a piece of glassware that was crafted for perfect functionality. Its short, thin stem and wide bottom are comfortably held. A hand cupping the bottom of the glass warms the liqueur to optimum temperature, while the small opening holds the heady aroma." An unknown Brandy Authority
<![if !vml]>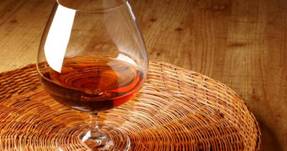 <![endif]>
Allow 10 working business days (M-F)! Several Days in-house before shipping. For the West Coast shipping....allow at least 14 days. Orders can only go expedited once they are ready to ship. Tracking numbers not provided as they ship from a small workroom of the craftsman--not a huge warehouse.
Truly wonderful and well worth the special wait and conditions (in our opinion !). If you have a special deadline....please discuss with us in advance and we will let you know if possible.
Allow extra time for the Holiday Rush ! Order EARLY DECEMBER for best results--Dec 5th or so.