Will Leather Goods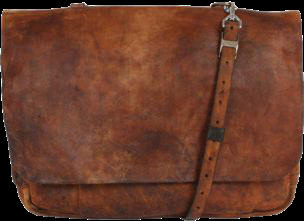 Will Bags
from Dann Clothing
Repurposed Vintage Postal Bag
Over the past thirty-some-odd years, Will has been around the globe collecting
(somewhat obsessively, one might say) leather goods of every variety. From boxing gloves
to bomber jackets, field boots to postal bags – if it's been made in leather, Will most
likely has a piece in the Found Archive. Each item has been collected not only for its inherent
beauty and functional design elements, but more importantly,
to preserve the past…
The U.S. Postal bags range from 1950-1970 - each piece being field tested by postmen of
their respective eras. Naturally, we relish these bags for their timeworn good looks; but
are more impressed by their reinforcement: the placement of rivets; pattern of stitching;
quality of thread; seam allowance – all of the details that allowed these actual bags to
withstand the test of time; carrying upwards of 80lbs of mail every day, year after year…
Fabulous WILL bags..... Each bag is unique !
ONLY FOR THE ADVENTUROUS.
All Will Leather Goods bags are carefully inspected -----
Any differences are considered "part of the charm" of your very unique bag.
For the guy that really likes the "broken in" look !