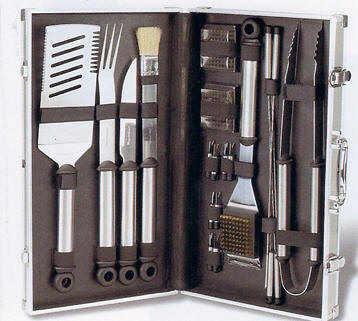 Compact twenty-piece stainless steel barbeque tool set.
· Includes aluminum storage case.
· Made of stainless steel.
· Case measures 19.5in wide x 11.5in high x 3.25in deep.

Contents of set:.
· One multi-function spatula.
· One three-prong fork.
· One marinating brush.
· Four shish-kabob skewers.
· Eight corn-on-the-cob holders.
· One pair of gripping tongs.
· One barbeque knife.
· One grill cleaning brush.
· Two extra grill cleaning brush heads.