Copper Mailboxes with Style !
Personalized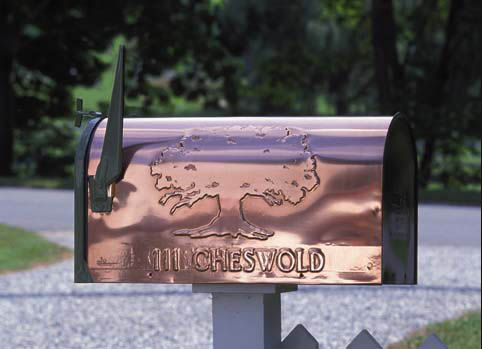 from Dann
Personalized Copper Mailboxes
Made by Hand !
Personalized with YOUR name or address.....and your choice of motif.
Golf, Fishing, Game Birds, Horses, Dogs.....
Vacation home......or Shop, Restaurant or Inn ! Great for gifts for someone who has everything !
Terrific for housewarming gifts and Bridal Shower. Very easy with our "Direct Ship". Choose from our Copper designs to
decorate your mailbox to show your own style....and welcome guests to your home !
Each Mailbox is individually made
for you and is a SPECIAL ORDER. We do not accept returns on Special Orders.
Each Copper cover is formed to fit the steel
mailbox. Our High-quality Copper is from Mexico ! Stand not included.
Please allow at least 21 business days before shipping ! Please note.....NO mailboxes are produced between Jan 1 & April 1.
Plan ahead and order now for Mother's Day...Father's Day....the Holidays.....always needs a little more time around the busy holidays.
Dennis & Joano
Your New Mailbox is covered with pure un-lacquered copper, meaning that, when placed outdoors the copper will darken in color over time. The speed and degree of color change will vary with location and atmospheric quality. To keep your mailbox a bright copper color, consult your local paint or hardware store for information on a clear coat urethane.
Copper is going to Tarnish if not polished or if a coating is not applied.
BPersonalization is available in capital letters; only lower case highlights are available, eg: McDUFFS.
If your text includes "The" you may choose script or all capital letters.
Design and Imprint on BOTH sides of the Mailbox !
Don't miss the new Matching Signs ! ONE or TWO Sided !