Lots of luggage looks the same----
--package of our 16 Bright Tags will help ! Enough for the whole family....and all of your gear.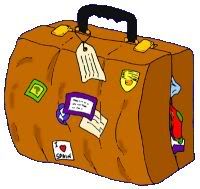 Identify your luggage instantly with these noticeable big, bold
5 1/4 X 2 5/8
Our Sturdy Paper Tags come in Orange, Yellow, Blue, Green, or Red and are made of thick, strong stock and are printed with name in large type plus optional address in small type. Package of 16 Tags.
Please specify tag color---Tennessee Orange, Irish Green, Sea Blue, Sunny Yellow, Big Ten Red
Type style
#1 (green, orange),
#2 (yellow, blue) or
#3 (red) in comments.
Ships in 6-8 business days ! Expedited shipping only when tags are ready to ship.
Don't miss the BEST VALUE special