Colonel Littleton
from Dann Clothing

Presidential Collection
Celluloid Magnifying Glass, Celluloid Pens,
Celluloid Letter Openers
Personalized !
Give all three matching pieces as a wonderful gift ! We can ship them wherever you need them to go...with a note from you.
Dennis
Celluloid Magnifying Glass

In days gone by before reading glasses were readily available, magnifying glasses were not just beautiful desk decorations, they were an absolute necessity. Even though they may not be a daily necessity now, sooner or later there will arise an occasion when you have need of a magnifying glass. Here's one that will bring things into focus for a lifetime and will be a handsome addition to your desk accessories. Celluloid with nickel-plated trim, this magnifying glass is 7 1/8" long with a 3" diameter lens. Oval inset in handle personalized with three initials

Celluloid Letter Openers

Even if your desk is covered from "stem to stern" with paperwork and "stuff", this celluloid letter opener with nickel-plated blade and trim will add a touch of respectability to your surroundings. 9 1/2" long. Oval inset in handle may be personalized with three initials, while the blade may be personalized with a full name and the year or a presentation message

Celluloid Pens

Celluloid pens similar to these were fashionable in the 1920's, 30's and 40's. In our celluloid pen collection, we have retained all that is good from the pens produced 75 and 80 years ago and have given them a more convenient roller ball mechanism. These pens are alive with marbleized color tones and feature nickel-plated trim.

They arrive in a black, sueded box with an outer black gift box for a smashing presentation........and our "Direct Ship" makes gift giving so easy !

The Colonel Littleton Collection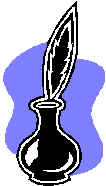 Personalized Papers from Dann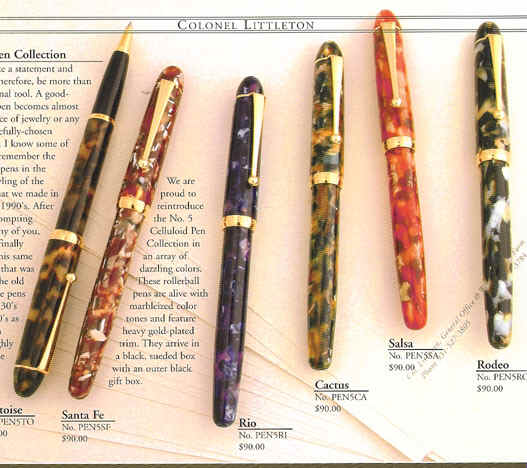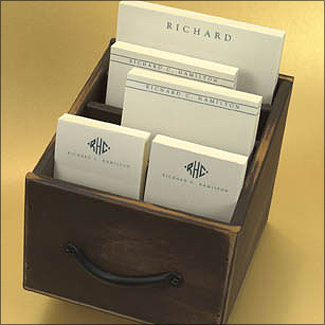 Limited Edition Memo Note Set
Memo Gift Set & Distressed Wooden Holder